Cosmopolitan: the pastry shop on the South Bank with XXL cakes and toast has reopened
There are giant versions of palmiers, jesuits, thousand leaves and profiteroles. They cost €2.90 each and can be shared (or not of course).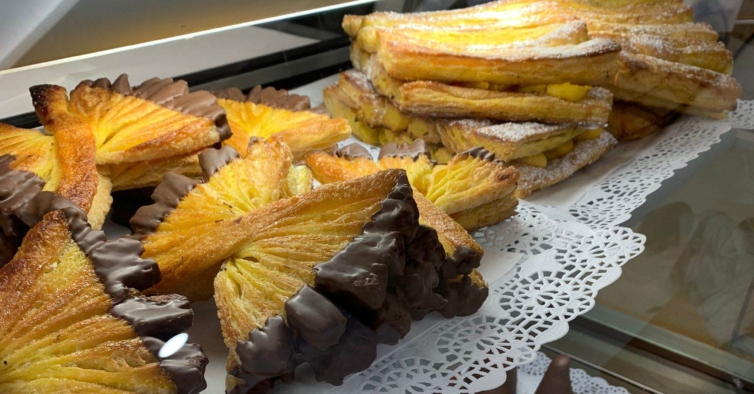 The hard part will be the choice.
For many years — too many to be able to pinpoint — Daniel Sanches (28) has been a customer of Pastelaria Cosmopolita, an iconic place in Feijó, a parish in Almada, that already has almost two decades of history. Being an old fan of the brand, he did not hesitate when he was given the opportunity to own it. However, he challenged Pedro Augusto (34), a longtime friend connected to the real estate industry, to join him on this adventure that officially began in October.
"It seemed to us that it was a business that had great growth potential, so we decided to invest. So we spent the last months renovating the space that had stagnated over time. Basically, we painted everything, turned the counter onto the street and it became brighter," Daniel begins, explaining to NiT. Before the pandemic, when he was forced to close, he had a bar in Cacilhas called Margem Cool.
"Basically, we gave it a more modern look. We didn't change the concept itself, because it was already a success and that won us over. The idea is to continue to focus on traditional pastries and XXL cakes (€2.9/each), which is a differential with many fans," he adds.
Cosmopolita had been closed since August and reopened on February 7. Regular customers who haven't been there yet can count on the large versions of palms, jesuits, thousand cards, profiteroles, napkins, pyramids, chess and rice cakes, for example. So far, however, the palm trees have stood out in the preferences of those who visit the store, says the manager.
Between all varieties, XXL or regular, they sell 60 to 70 units a day. "In the middle comes a series of pieces of toast that are also very large. They are made with three slices of bread and cost between 4.5 and 5 euros.
Those who, instead of a snack or breakfast, are looking for a tastier meal, can choose one of the various toasts (€2.4 to €5). "In the future, we will start serving soups and salads, but for now, we have chicken toast. salmon; pleasures of the sea; ham and brie cheese, to name a few," he concludes.