Rita, the urban explorer who once slept in an abandoned mansion. "It was very scary"
He is 29 years old, studied History of Art and is a tourist guide, but in his spare time he devotes himself to urbex.
always with a voice low, so that no one could hear her, Rita Constantino spoke to NiT in a late Friday afternoon. he walked to explore an abandoned place in the North, which he described as an abandoned "Queluz Palace", with dusty 17th-century beds, paintings hanging on the wall and secret passages. He had spent the whole day there, getting to know every nook and cranny, as he does whenever he visits these places steeped in history that seem frozen in time. And there were not a few — has already explored about 300.
Rita is 29 years old, studied Art History at the Lisbon School of Letters and considers herself "quite a revolutionary". He is a private tour guide in the company Portugal Unknown Tourswho organizes unique guided tours and in his spare time devotes himself to urbex, an abbreviation of the English expression urban exploration.
She has been curious for as long as she can remember and is passionate about anything related to art and heritage. "I've always been connected to tourism and I really like history. It was these passions that made me start visiting abandoned places. It is a collection of everything, but with more adventure and adrenaline," says NiT the tour guide, who started exploring these places when she was 16 years old.
From grand palaces, car graveyards and even shopping malls, Portugal has one of the largest abandoned heritage sites in the world — and Rita sets out to tell the story of these places, many of them still unknown. This is what motivated her to share, in the summer of 2020, photos and videos on social networks Instagram is Tik Tok.
He remembers that the first place he shared was the famous abandoned Disney in Sintra, but he had already visited other iconic places such as Palácio da Comenda and Rei do Lixo, both on the South Bank. "Sintra Palace started to become quite popular and that's how the idea was born. Since I am a tour guide, I could do a little summary in a photo archive about these places," he says.
He usually spends hours exploring each place and has even slept inside an abandoned palace in Portugal — father didn't like it very much. "This time I called my dad before I went to bed to say I was in that place and sent him the location. He was very upset with me, he told me I was crazy," she reveals. Even so, this did not stop her from spending the night in a tent in the old mansion, known as "A Casa dos Sonho". After all, he was also used to the camp, due to the years he spent in the scouts.
The floor, doors and windows made noise every time Rita and her friend Daniel moved. Not to mention the constant draft, bats and birds. "It was a very scary experience, because it's not just the animals, the spiders and the bats. There's always that fear of catching people who might come and hurt us." reveals.
Everything went well and it turned out to be "one of the best experiences" he's had since entering the world of urbex. "The simple act of pulling up the tent and going on an adventure without knowing what's going to happen to me is something that excites me. Perhaps, it is in the discomfort that I feel most comfortable", he confesses.
@ritalexandraconstantino

WE'RE SLEEPING IN AN ABANDONED PALACE! 👻🔦🦇🏚 @lugares.esquecidos #foryou #fyp #fy #abandoned #urbex #portugal #adventure #palace #art #painting #aventura #abandonado #lost #old #pinturas #fypage #foryourpage

♬ love nwantinti (ah ah ah) – CKay
On the other hand, he has also experienced some more dangerous situations that he prefers to forget, like when he was exploring a small palace and had to leave in a hurry. "There was a person inside, I thought he was an explorer like us. However, we understood that it was a gentleman who often went there to steal things and leave. When he realized we had photographic material, he chased us," he says.
In addition to being fearless, she is also curious. He doesn't want to share places "just to share": he's always looking for the story of the abandoned heritage. He usually asks permission to enter the premises and sometimes even manages to speak to the owners of the site — despite the fact that many of the owners are "embarrassed" by the state of the heritage. "Just this week I was at a place where the owner told us how he played there, showed us where he played cards. You could see his excitement because it was basically a place where he spent his summers."
The urban explorer reveals that she knows about 300 abandoned places in Portugal. She has already visited "a bit of everything" and, when she thinks that nothing will surprise her anymore, she manages to find new things. Like when she went exploring a giant, three-story mansion and found wedding dresses in one of the rooms. Or when, after a long weekend of exploring, you came home and found abandoned carnival dolls side of the highway.

Although most of his adventures are in Portugal, he has already bought plane tickets just to visit abandoned places outside the country, such as Luková, the ghost church in the Czech Republic, considered one of the scariest places in the world .
Then click through the gallery to see some of Rita Constantino's photos of abandoned places.


see the collection
">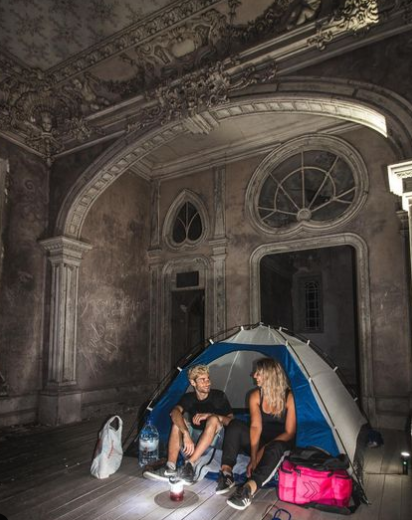 Abandoned mall. Photo: Rita Constantino.