Hiking shoes are hitting the streets — and it's Rihanna's fault
The model used by the singer in the Super Bowl final costs €309. NiT shows you cheaper options to join the trend.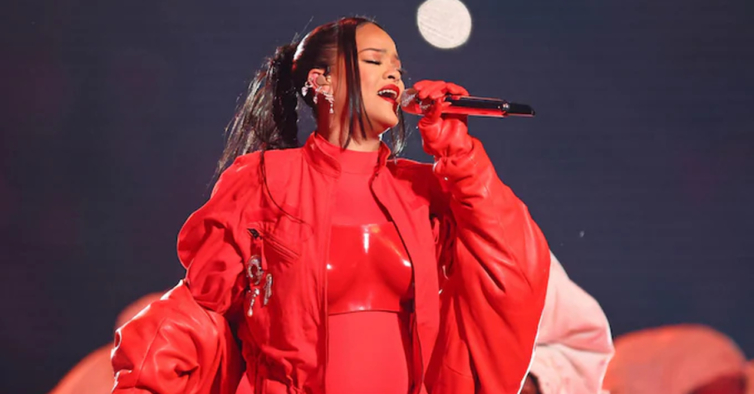 Discover other alternatives.
No one remained indifferent to Rihanna's return to the scene. In the early hours of this Friday, February 13, the Caribbean artist performed at halftime of the national football championship final, the Super Bowl — and it wasn't just her performance that caused the conversation. The look chosen by the singer was one of the most mediating elements of the show.
The red monochromatic look consisted of a silk jumpsuit by Loewe, a bustier top and an oversized quilted jacket, both by Alaïa. All pieces are custom designed and stand out. Even so, it was the sneakers worn by the 34-year-old artist that sparked the most curiosity.
The design resulted from luxury brand Maison Margiela's MM6 collaboration with sportswear brand Salomon, launched last November. The ankle-length Cross Low model combines shades of red, orange and pink with a drawstring and a corrugated rubber sole. According to Google Trends data, searches for the same model increased by 4,000 percent in less than 12 hours.
Without much effort, Rihanna made room for a new trend. It is not common for us to look at models designed for use on hikes and trails and want to adopt clothes that are used on a daily basis. However, before reaching the moodboard of the "Diamonds" singer's stylist, the pair idealized non-aesthetic activities: proof that mountain gyms have a place in the wardrobe of the biggest fashionistas.
In fact, the aesthetic has become so popular that the shock absorber industry has given the style a name. Gorpcore wears clothing that is functional for outdoor activities but wearable outside of that purpose. This demand for more practical hiking gear shows that comfort and leisure are increasingly taking precedence over elegance.
Proof of this phenomenon is the increase in the popularity of Salomon, which has grown significantly. Created in 1947, the French brand stopped making models only for the ski slopes in the 90s. It was still owned by Adidas between 1997 and 2005, but it wasn't until 2016 that it started creating its own articles with various collaborations. Notable are the collaborations with Comme des Garcons, Kith and Palace Skateboards.
If you are one of the thousands of people around the world who have become obsessed with the model, we have good news: it is not difficult to find it for sale. The sneakers retail at online retailer Farfetch for €309, a price that isn't exactly friendly.
However, if you're really a fan of the pair worn by Rihanna, you can find quite a few low-cost options that look just like the collaboration model. This is an image proposal, which costs €124.90, on the EkoSport website. Click through the gallery to discover many alternatives.

see the collection
">